In case you were wondering why we were Facebook-silent from Wednesday, June 14 until now (June 22nd), that is simply because the good folks over at Facebook decided to put a ban on our posts for an entire week…basically putting us in some type of cyber-timeout. We are back, however we are now making some slight changes on how we're posting for now on.
But first, let us vent a little.
How all this started
Back on June 12th we received an email from Facebook stating that one of our posts "violated someone's intellectual property".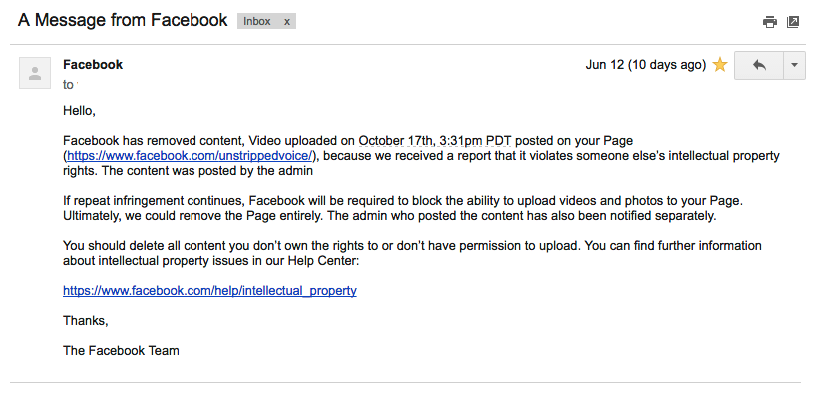 As you can see in the screenshot above, the video was uploaded back on October 17, 2016 — 8 months ago! The now-deleted video was claimed by NBC (not going to blast the particular individual who made the claim…not worth the publicity). It described the rarely-spoken 1982 Vincent Chin case, which sparked an uprising in the Asian community in the U.S.
We posted the video for the same reason we post almost all of our videos — to bring back to light hidden cases, achievements & stories involving people of color that we often forget (or was purposefully hidden).
So there's was a claim to one of our videos. That's fine. The above email also stated that "if repeat infringement continues, Facebook will be required to block the ability to upload videos and photos to your Page". No problem. We felt that if we were more careful, we won't come to a situation where we would get blocked by them.
Little did we know that the blocking would come just two days later. Out of the blue, without any infringement notifications, the good folks at Facebook dropped this gem in our inbox: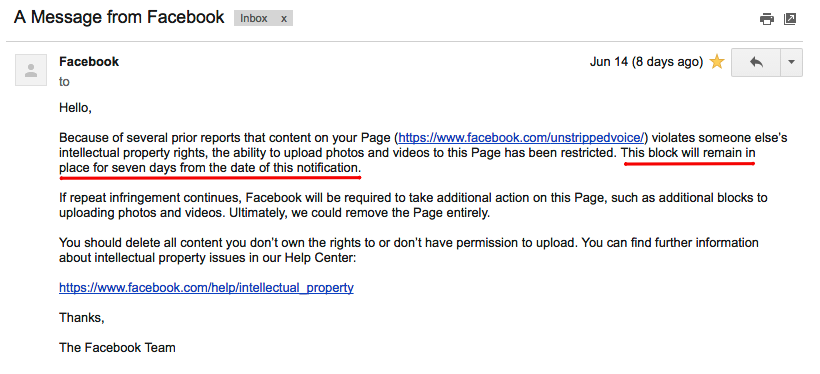 And just like that, we couldn't post for an entire week. So the #PhilandoCastile verdict (and shooting), and other stories/videos that we wanted to post…we couldn't even post it. (Unless you followed us on twitter).
Sucks.
When it all seems fishy…
Now, we know the first thing some of you would say is "well just don't post other people's intellectual property, and you won't get banned". Our first response would be that there was no "repeat" infringement. That was our first one! So for the Facebook folks to come around and suddenly "ban" us after their first notice seems all the way fishy.
So how did we react? Well at first we were upset.
We could've done a counter-notification and tried to fight it. We also could've reported all the times we got nasty messages in our inbox from people who felt "freedom of speech" was their ultimate protector, while the same Facebook team that banned us to protect "copyright infringement" failed to protect us from these individuals (once again we're not going to blast the people who sent these messages…definitely not worth the publicity for them).
We were upset. We complained a little.
Then we realized something.
Who really "owns" the content?
And by "own" we don't mean the above video that was taken away, like the people at NBC did to us. But in a more "general" term — like who own's Unstripped Voice and the ability for us to post content?
The easy answer is: The founders & administrators of Unstripped Voice. It's that simple.
However, although we have a website where some of our content is located, the truth is that since Facebook has billions of worldwide users, and over 185,000 of you like our Unstripped Voice facebook page (with over 3 million page views per week), it was easy for us to get carried away by neglecting our website and focusing almost entirely on our Facebook content.
That's until they pull off shenanigans like blocking our ability to post for one week.
Situations like this made us think about what's really important, and how this can't happen again. Once again — the easy answer is not to "post any infringement content", but who knows when the next email notice would come (remember, we just got an email that told us a video from 8 months ago was claimed. Eight freakin' months ago!)
---
What we realized is that although the folks at Facebook can block our ability to post anytime they want for whatever reason they want, what they can't do is to block our ability to post whatever we want on our own website — because WE OWN OUR OWN WEBSITE! That simple epiphany was something we at Unstripped Voice needed re-assuring. And there's a deeper reason why.
Yes, we're going there.
So who owns Facebook? Who are the founders? Well, judging from their Board Members (the ones who "call the shots"), NONE OF THEM are folks who are people of color. None! Not even their Key Executives are people of color. These are the people who run Facebook, makes decisions and even profits off all the new users, groups, and arguments that go on each posted content.
We'll just call these board members & executives the "majority white-owners".
Putting all this into perspective made us realize that we were "betting almost all our cards" of growing our Unstripped Voice platform (a site that promotes social, racial & economic equity) on a site that doesn't even have a person of color in leadership…not matter how famous the site is. (And if you haven't figured it out yet — yes we are Black-owned). At any moment, they (Facebook) can take away our ability to post content on their platform.
But they can't take away our ability to post on our website.
Time to switch gears
So it is with this realization that we at Unstripped Voice will be going back to posting our article and videos on our own website. Although Facebook (especially the videos) were a great vehicle for us to grow our audience base, to take the next step we would need to post on a platform where we call the shots!
And never forget, you can post on here as well.
As far as our Unstripped Voice facebook (and twitter) pages, you will still see stories and video links. However, our new content (especially the videos) will be now displayed on our website. That's the new direction we are taking for now on.
Note: The only exception to the video rule is if you give us consent to share a video on Facebook.
And a special thank-you goes to…
So in the end, to the good folks over at Facebook: Thank you!
Thank you for allowing us at Unstripped Voice to open our eyes, to let us know who really owns our ability to post whatever content we want to post…and what really matters in the grand scheme of things.
As the saying goes, "One door closed is another one opened" — or in our case, "One door closed is re-opening one that we took for granted." Thank you for that eye-opener, Facebook.
And one more quick thing…
In a lot of comments in our Facebook videos (and even in an article posted on our site), there's been talk of a need for minorities to take back (or gain) ownership of their businesses, their content.
Although it is tempting (okay we admit, very tempting!) to go with the non-minority owned business (like Facebook) since they have more resources, more money, more users…it's very important to remember that owning your content, your direction matters as well, even if it takes a little longer to gain your following.
Because in the end, if your content is good enough, the people will eventually come.